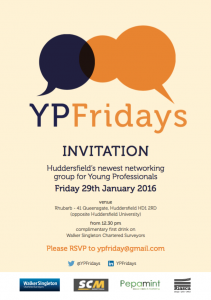 Networking is more about 'farming' than it is about 'hunting'. It's about cultivating relationships – Dr Ivan Misner
Young Professionals Fridays, or YPFridays, depending how much time you have in the day, is a networking group based in Huddersfield, aimed at allowing young professionals to connect with other like-minded individuals.
Networking has always been an integral part of being in the world of business, having contacts you can rely on for advice, opportunities and mutual support is invaluable to everyone. Arguably this is more-so the case at the present, with career culture being much more flexible and fluid, with many people rebelling against the traditional norm of establishing a foothold in a sector, and grinding their way to the top until retirement.
Building a broad and strong network keeps everyone "in the know", who is and isn't hiring, what opportunities are available, what services you might have access to, and finding potential new clients. It also enables attendees to discuss what's happening in their roles and offer insights to others, and allows a shared perspective to it. This is especially useful to discuss ideas, previous experiences, and potential strategies. This inspires creativity and innovation, without the anxiety of risk of entering or implementing the totally unknown.
With the right kind of networking you can develop strong relationships that can last throughout your entire working life. YPFridays intends to create a friendly and comfortable environment where these relationships can be built and maintained.
The meetings will be held various locations around Huddersfield on the last Friday of every month.
The first in the series of meetings will be at Rhubarb in the centre of Huddersfield on Friday the 29th January at 12.30pm.
For more information, or to RSVP for the January meeting, please email the team on ypfriday@gmail.com, or find them on twitter or Linkedin.