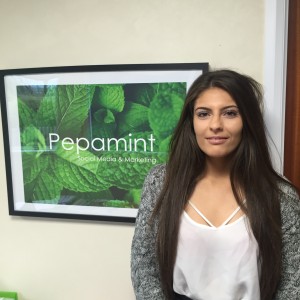 This week, we welcomed our new PR intern, Emmeline Glen. Emmeline is a third year, Journalism student at The University of Huddersfield. She has a keen interest in marketing and has joined the hellomint team in order to develop her PR and Social Media knowledge.
Emmeline has been very successful within her studies and we are excited to see what attributes she brings to our team and to our clients. Emmeline will be interning with us until the end of her studies.
Emmeline commented "I am delighted that I have been offered the position at hellomint. It is a great opportunity to be involved with the company and I feel like I can develop a range of skills due to the diversity of their clients. I have noticed a significant rise in demand for social media communications in business and I am excited to work for hellomint in order to strengthen my industry knowledge".
Managing Director, Nicola Mellor commented "Emmeline has joined us at a significant time of growth within the company, we are looking forward to utilising her specialist skills in forthcoming client projects and helping to further her development in Journalism and PR."
We would love for you to join us in welcoming her to the team!