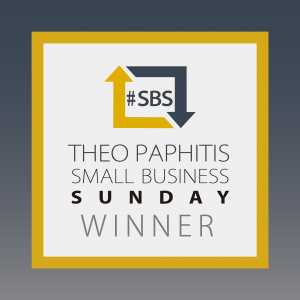 We are thrilled to be crowned winners of Theo Paphitis' Small Business Sunday Award.
The win is a great recognition for our business and team for all their hard work over the last year where we have seen considerable growth in the business.
The weekly twitter competition runs every Sunday evening from 5:00PM to 7:30PM. The SBS award, which started in 2010 was an initiative set up by Theo to reward and raise awareness of small businesses. Small businesses across UK tweet their sales pitch to the Dragons Den star who retweets six business to his 450,000 follower.
The win follows on from our client win just two weeks prior to ours when Mr Flyer were chosen by Theo. We are now members of the exclusive Small Business Sunday (SBS) group and we will be attending the annual #SBS event which will be held at the ICC in Birmingham on 12th February.
To find out more about the awards, please visit their website.