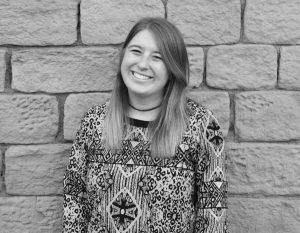 Sophie is our newest member of staff at hellomint, she will help keep hellomint running smoothly and managing a number of key accounts while the business continues to grow. Sophie will be using her wide range of skills and experience to continue to build up clients' businesses through use of search marketing, AdWords, email marketing, social media marketing and much more. Sophie will have lots of responsibilities in her role as Account Manager. With Sophie's expert knowledge which she has acquired from her previous employment as Marketing Executive at Burton Safes, we hope to see a huge improvement in our business and we can ensure she will help even more clients grow their business through the use of digital marketing.
Sophie achieved a degree in Fashion Communication and Promotion at Nottingham Trent University which provided her with the valuable skills required for this position. We are excited to see what amazing content she will produce with her additional skills in Adobe Photoshop and Adobe Illustrator. She has an amazing portfolio that showcases her graphic design skills. At university, she collaborated on live projects with well-known companies such as Unilever, Pretty Polly, Seventeen, Traid, and Ann Inc.
Sophie has fitted perfectly into hellomint, her dedication and passion in her career really shines through her work. Her positive energy uplifts the office environment and she is a pleasure to work with. We can't wait to see what amazing content Sophie is going to produce in the future and the benefits we will have by having her on board our team.
Likes: Drinking rum, going to the gym, holidays
Dislikes: Frogs