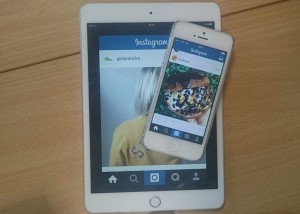 In December 2015, Instagram users were teased with the tantalising possibility of managing multiple accounts simultaneously before the feature was quickly disabled without notice.
However, over the last week, Instagram has been officially rolling out the feature to its users, allowing you have up to five accounts logged in and running at the same time! This is big news for those who used Instagram for marketing, and rids the issue of having to fiddle with logging out and in of various accounts.
Although it's not readily advertised, it's quite simple to do. Just head on over to your account and hit the settings button in the top right corner. If you scroll almost all the way to the bottom, above "log out" there's a new option to "add account". Just sign in, and voila! You have multiple accounts to switch between. Just make sure you're posting to the right account and the right time, very few people who follow a page about fitness will appreciate seeing your ice cream binge.
Instagram has gained popularity as a tool to let businesses engage with their audiences creatively and on a very personal level, helping to personify the brand and let followers feel like they're interacting with real people, not just a faceless business. Now, with Instagram finally catching up with Facebook, twitter, and even tumblr, with this newly introduced feature, we expect to see a lot more active use of Instagram by businesses.
With its short, bitesize content, hashtag functions and fast pace, Instagram is, in many ways, a visual twitter, which is already a staple in any marketing toolbox. Because of this, it's easy to see that Instagram could quite easily become an essential part of any marketing strategy.