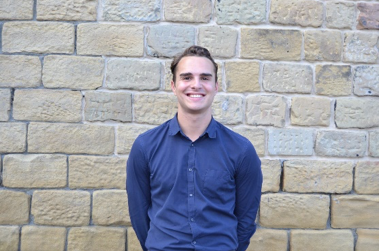 Greg has been promoted to Content Manager (*champagne bottle pops*). He has had an array of achievements in his previous position as Marketing Executive, but we feel he will achieve even greater things in his new role. Greg will have even more responsibilities but we feel these challenges will push him to achieve his full potential.
Greg has gained various skills from when he started; he joined our team as a university graduate with an English Literature degree, this makes him ideal for his new role. Before working for us Greg gained experience as a journalist working for the Huddersfield Examiner. It is clearly visible in Greg's work that he is passionate about writing and creating exciting content for blog posts and newsletters. Throughout his time at Hellomint, Greg has continued to make use of his incredible writing style, his impressive and engaging style is perfect for building consumer interest in our clients' businesses. Greg has contributed greatly by helping build the company through gaining clients and producing work which they continue to love.
Greg is an asset to both our team and our organisation, he is hard working and his personality makes the office a very enjoyable place to work. He takes pride in his work and we can't wait to see his success in his new position.
The questionable factor is how many pens will Greg chew through in the next stage of his career as Content Manager?