Facebook has recently announced that it is currently testing a new feature to enable businesses to drive sales through a new 'buy' button. This could dramatically affect how business users post their products & services through the world's largest social media platform.
This new button would enable users to click the 'buy' call-to-action button on ads and page posts to purchase a product directly from a business, without leaving Facebook. This means the transaction would take place through Facebook and not via the website of the business.
Example of how the 'buy' button would look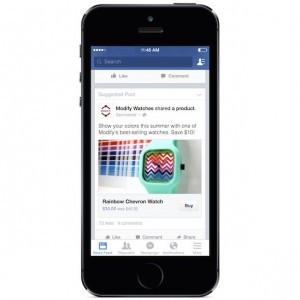 Facebook has reassured future users that the whole functionality is security-oriented with the social network focusing on making online payments as safe and secure as possible. In addition, payment and credit card details and customers data will not be shared with advertisers. Users will also be able to opt for keeping their payment details for future use.
Facebook has started testing the functionality of this new 'buy' button on mobiles and desktops, while Twitter is currently testing on mobile devices only. The evaluation work is currently taking place in small and medium-sized businesses in the US. We look forward to hearing the results of these tests and the future launch in the UK.
Here at hellomint we think some of our SME clients will really benefit from the introduction of a 'buy' button as it will enable them to sell their products quickly and easily however there will probably be additional costs involved in administration. For other businesses the 'buy' button may not really be suitable, it really depends on the type of business and industry.
Written by Emma Rushworth –  hellomint Limited